A space of your own.
Get back to the basics in one of our furnished cabins. Perfect for families, golf groups, reunions, and parties, these cozy bungalows offer outdoor grilling areas, a bonfire pit, and all the fantastic amenities and activities that have made our resort so well-known.
Two-bedroom cottages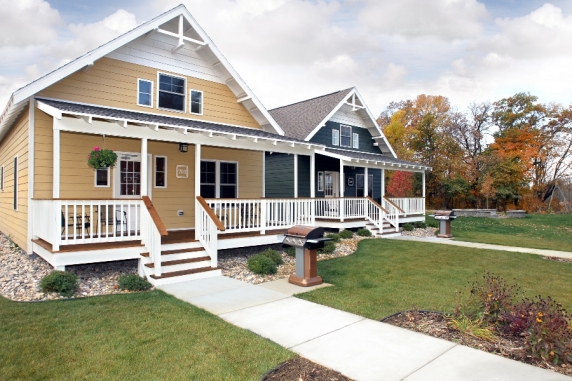 Our cozy two-bedroom cottages are great for small groups of up to 8. Enjoy a full kitchen, dining area, a great room with a sleeper sofa, LCD TVs, wi-fi, and an outdoor grilling patio.
Four-bedroom cottages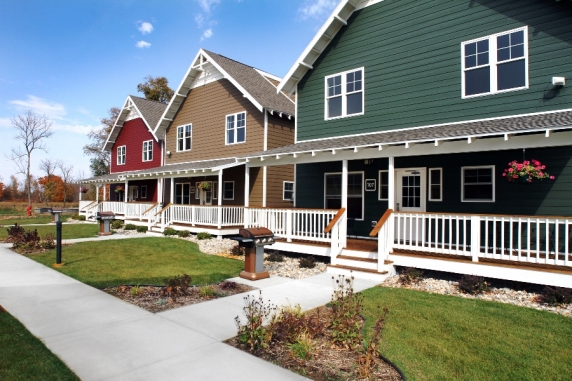 Looking for something a little larger? Our four-bedroom cottages have 1,770 square feet of space (spanning two floors) to sleep up to 14 guests.
In addition to four bedrooms, you'll find a great room with a sofa sleeper, LCD TVs, wi-fi, two bathrooms, a full kitchen and dining area, a spacious front porch, and plenty of space for grilling.
One-bedroom honeymoon cottage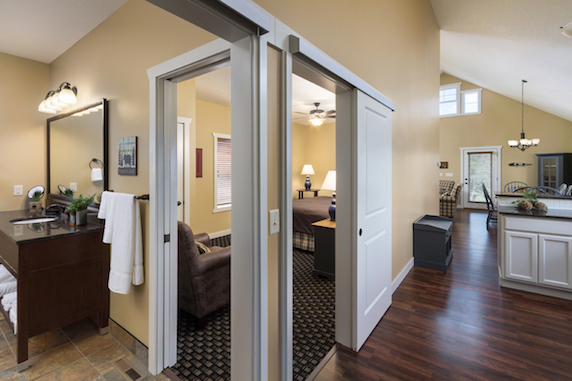 Perfect for a honeymoon or simply some time to yourselves, our honeymoon cottage provides an intimate home away from home in a luxurious resort atmosphere.
You'll find a furnished master bedroom, full kitchen, living room, and a spacious front porch for enjoying the soft breeze from the lake.
Floor Plans
Check-in times & other information.
Guests are welcome to check in at 4:30 p.m. and check out at 11:00 a.m. If you check out early, you are still responsible for the entire period of your stay. A minimum length stay may apply during peak periods.
Please note that all cottages are non-smoking, and that specific amenities may vary.
And we're sorry, but we do not allow pets on resort property.
Cancellation Policy
If you can cancel your reservations 30 days prior to your scheduled arrival, your deposit will be refunded, less a $25.00 processing fee. If your reservation is cancelled less than 15 days prior to your scheduled arrival, you will be charged for the entire reservation. "No shows" will be released at 8:00 a.m. the day following your reservations.